The Russia inquiry could be under threat after Donald Trump fired US Attorney General Jeff Sessions, top Democrats have warned.
Democratic House leader Nancy Pelosi called the decision a "blatant attempt" to end or impede the investigation.
The Democrats, who captured the House of Representatives in Tuesday's mid-term polls, have vowed to protect it.
Special Counsel Robert Mueller is looking into allegations of Russian meddling in the 2016 election.
Matthew Whitaker, who has has been named acting attorney general, has previously criticised the investigation.
Some Republicans appear to have shared the Democrats' concern over the future of the inquiry. Senator Susan Collins and Mitt Romney said it should not be impeded in any way.
Mr Mueller is investigating alleged collusion between the Trump campaign and Russia, resulting in a series of criminal charges against several Trump associates.
Mr Trump has vehemently denied any collusion took place, and repeatedly called for the inquiry to be shut down, calling it "the greatest political witch hunt in history".
Democrats see this latest move as an attempt to do just that.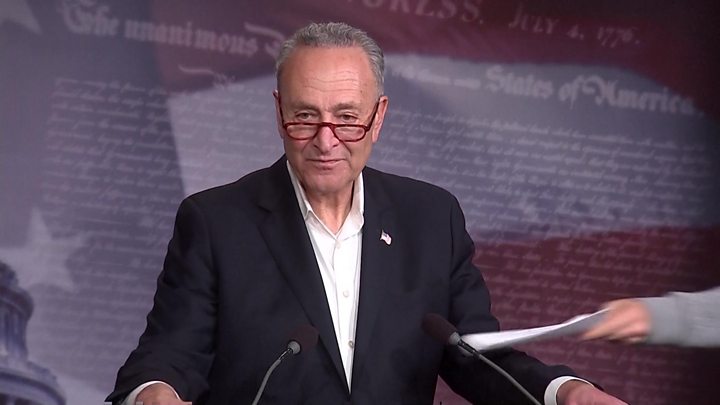 "It is impossible to read Attorney General Sessions' firing as anything other than another blatant attempt by @realDonaldTrump to undermine and end Special Counsel Mueller's investigation," Ms Pelosi – a front runner to become House leader following this week's mid-terms – tweeted.
She went on to argue that, "given his record of threats to undermine and weaken the Russia investigation", Mr Whitaker should follow in Mr Sessions' footsteps and recuse himself.
BBC