A Lion Air Boeing 737 passenger plane with 189 people on board has crashed into the sea shortly after taking off from the Indonesian capital, Jakarta.
Flight JT 610 was headed for Pangkal Pinang, in the Bangka Belitung Islands, when it lost contact.
Rescuers have recovered some remains and there is no sign of survivors.
The cause of the crash, involving a new plane in operation since August, remains unclear. Lion Air is Indonesia's largest low-cost carrier.
The incident is reported to be the first major accident involving a Boeing 737 Max – an updated version of the 737.
"The plane crashed into water about 30m to 40m deep," Search and Rescue Agency spokesman Yusuf Latif told AFP news agency.
Rescuers have recovered bodies from the sea and families are being told to go to hospital to identify the dead. Items belonging to passengers have also been found in the water, including baby shoes, ID cards and luggage.
"We need to find the main wreckage," said Bambang Suryo, operational director of the search and rescue agency. "I predict there are no survivors, based on body parts found so far."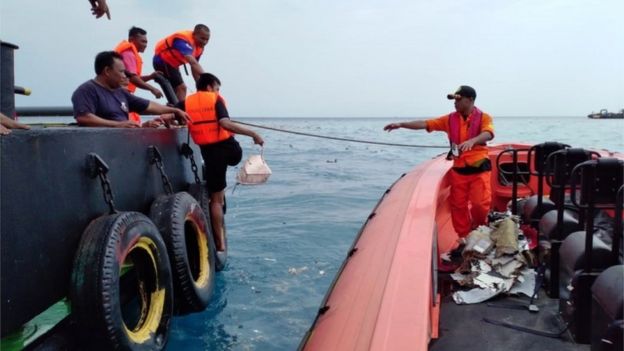 At an earlier news conference, officials said the plane had been carrying 178 adults, one infant and two babies, as well as two pilots and five cabin crew. However, Lion Air has since named six cabin crew.
What happened?
Flight JT 610 took off from Jakarta at 06:20 local time on Monday morning (23:30 GMT on Sunday).
It was due to arrive at Depati Amir airport in Pangkal Pinang an hour later but 13 minutes into the flight, authorities lost contact with the plane.
The pilot had asked to return to Jakarta's Soekarno-Hatta airport, the head of Pangkal Pinang's search and rescue office, Danang Priandoko, told local news outlet Kompas.
Lion Air Chief Executive Edward Sirait has said the plane had an unspecified "technical issue" on a previous flight, but he said that this had been "resolved".
The airline operates 11 Boeing 737 Max 8 planes but the others have not had a similar technical problem and there is no plan to ground the fleet, he said.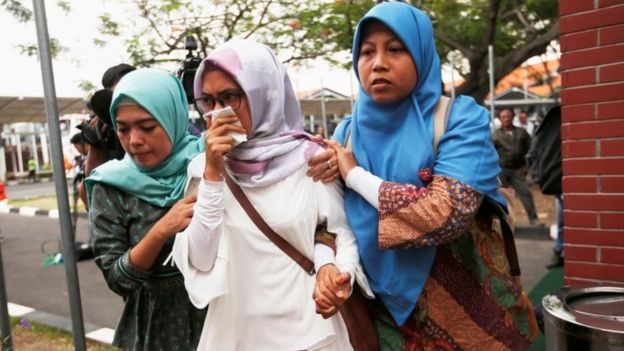 The head of Indonesia's disaster agency, Sutopo Purwo Nugroho, has tweeted images of debris and personal belongings that came from the aircraft and had been found floating in the sea.

He also shared a video he said had been taken from a tugboat off Karawang, just east of Jakarta, which appeared to show floating debris and an oil slick.